Aims
EXIT-Germany helps individuals who want to leave the right-wing radical milieu to develop new perspectives outside the right-wing environment. We arrange contacts, provide practical aid and answer questions regarding personal safety, social problems and individual reappraisal. We will also clarify what may not be feasible. Accordingly, EXITGermany aims to counter right-wing extremism and hate crime by assisting in breaking with this scene. Here we would like to emphasize that freedom and dignity of every human being as well as the establishment of the principles of equality and mutual respect are the cornerstone of our work. Thus, we challenge and counter every extremist ideology that rejects these values but actively engage the individual human being.
EXIT-Germany aims at offering right-wing extremists different forms of help. Firstly, by providing new perspectives on right-wing extremist movements and ideologies, we attempt to show an alternative world view and outlook on life. By addressing societal questions, critical reflections arise, which constitute an integral part within the dropout process. In addition, leaving the extreme right-wing movement often comes along with certain risks and dangers. EXIT-Germany, therefore, attempts to provide security and safety to the dropout (e.g. moving nationally/internationally, changing identity or receiving police protection), especially as most of the clients come from long term involvement and high positions within the hierarchy. EXIT becomes a safe haven for the dropout to rely on for any kind of help, as long as these persons are willing to break with their radical ideology and past. Personal reflection is of great importance prior to ultimately leaving right-wing groups. In order to really 'exit' this scene, dropouts have to cut all connections to their former group. Finally, EXIT-Germany has a large range of institutional and practical contacts, for example, to psychologists or employers. However, EXIT will not provide any financial aid to former radicals and also will not offer protection from judicial persecution. The essential core of EXIT-Germany's philosophy is, that the critical reassessment of the person's past and the dismantling of the radical ideology are absolutely necessary to leave a radical milieu.
Moreover, our goal is to provide the public with information about right-wing extremism; either in form of workshops at Aims schools or other institutions, presenting our work at conferences, or answering calls or letters with questions regarding right-wing extremism or leaving this scene. For that purpose EXIT-Germany has helped to establish an research division dedicated to the issue, the Institute for the Study of Radical Movements (ISRM www.istramo.com) and the world's first peer reviewed journal on deradicalization (JEX www.journal-exit.de). Although EXIT-Germany focuses on rightwing extremism, violent extremism is a problem larger than right-wing ideologies.
Thus EXIT-Germany is part of a unique NGO network: the Centre for Democratic Culture in Berlin (ZDK) hosting partner organizations addressing for example also Islamic extremism, such as the family counselling program HAYAT for the relatives of "Foreign Fighters" since 2011. In addition, Exit cooperates with similar organizations in the field world wide.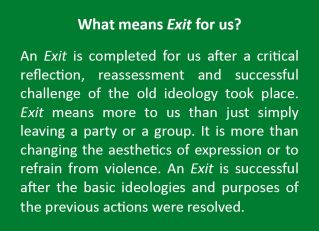 Counseling
We counsel families affected by right-wing extremism and analyze critical situations. We create new scenarios to make opportunities available and to resolve helplessness and fear. Likewise we help to dissolve family members from the scene. We establish contacts to former right-wing extremists and accompany the process to motivate right-wing adolescents to avoid or leave the movement. We help to facilitate discussions with people who bear original experience from dictatorships. We counsel teachers, policemen, institutions, individuals and anyone who is in need of advice.
Our counsel is customised and discreet – case-related and connected to many experienced and competent partners.
Booklet
EXIT

-Deutschland | We Provide Ways Out Of Extremism Download.pdf
---
Review of Programs to Counter Narratives of Violent Extremism: What Works and What are the Implications for Government? Download.pdf
Old Threat, New Approach: Tackling the Far Right Across Europe Download.pdf
Preventing Terrorism and Countering Violent Extremism and Radicalization that Lead to Terrorism: A Community-Policing Approach. Published by the Organization for Security and Co-operation in Europe
Vienna, February 2014.

OSCE

2014 Download.pdf
---
Contact
EXIT-Germany
post office box 76 01 12 – 13162 Berlin
Fax / Voicebox: (+49) 3212 – 174 58 90
Mobil: (+49) 177 – 240 45 92
E-mail: info[at]exit-deutschland.de